2016/2017
---
"Deconstruction and the Space Between"
Fibre works by Julie Pongrac and sculpture by Danielle Swift
Exhibition date: October 14 - November 12, 2016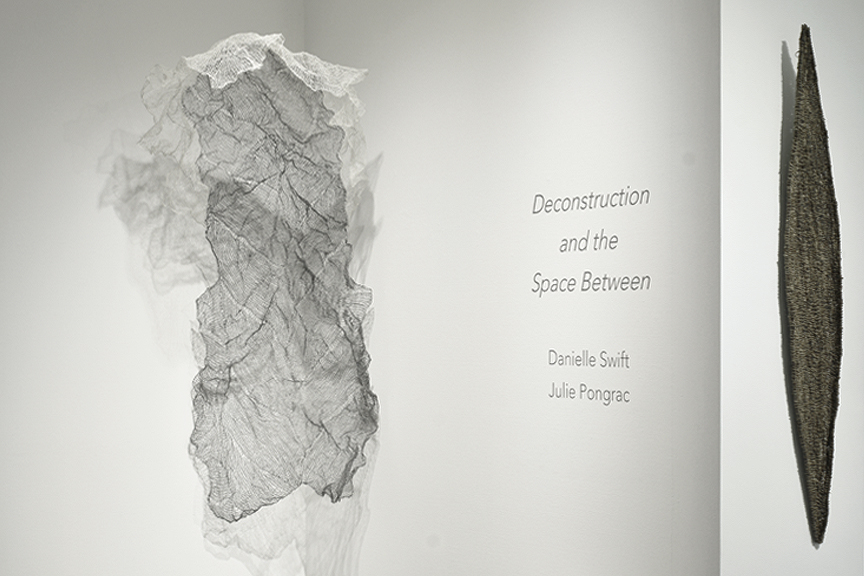 "Umbilica" and "Adrift" by Julie Pongrac with Exhibition title
---
Deconstruction and the Space Between
an exhibition by Danielle Swift and Julie Pongrac
Deconstruction and the Space Between is the first exhibition bringing together the artwork of Danielle Swift and Julie Pongrac. Both artists present works from their material practice that speak to natural processes of creation, decay and regeneration. Scientists now claim we are entering the Anthropogenic age, a new geological era in which humans have changed the chemistry of the earth forever. The sculptural works in the exhibition meditate on human and non-human forms and reveal the complexity, beauty, and precariousness of life on Earth as we know it.
Julie Pongrac uses her extensive background in the sciences to represent life forms through traditionally feminine fibre arts techniques. With knitting, felting and basket weaving, Pongrac creates delicate and impactful sculptures that represent ancient and endangered biologies. Umbilica (2015) is a wall hanging hand-knit with silk that takes its shape from the lichen, a ubiquitous plant that covers the rocks and trees of the West Coast. The dense and undulating knitted pattern replicates the fractal structures that occur naturally in the lichen. Endangered (2016) zooms in even further, and scales up the microscopic DNA structure of the endangered seaside centipede lichen. The information contained in this structure has taken 3.5 billion years to evolve, and is at serious risk of being lost forever. The Gaia (2015) series looks at the sacred feminine forms that have reoccurred through cultures since prehistory. Pongrac is interested in deep history, and representing the biological forms that continue to evolve and regenerate, but whose survival is at risk.
Danielle Swift's dedicated material practice begins with the body. She constructs and deconstructs human forms to represent the dualities inherent in human existence. Fragile and robust natural materials are married to evoke unique psychic responses from the viewer. Bound Figure III (2012) is a pensive female form perched atop an egg, with ropes that appear to have been severed. Much of her skin is stripped away, leaving the muscles, bones, and ligaments exposed. Decay and regeneration are at work simultaneously, and typify the still conflict in Swift's work. The spine is a central motif, and represents both the supporting structure of the body as well as a conveyor of sensation. It is an apt metaphor for the poetic merging of physical and mental mechanisms at play in Swift's sculptures.
Douglas Watt - Curator
October 2016
---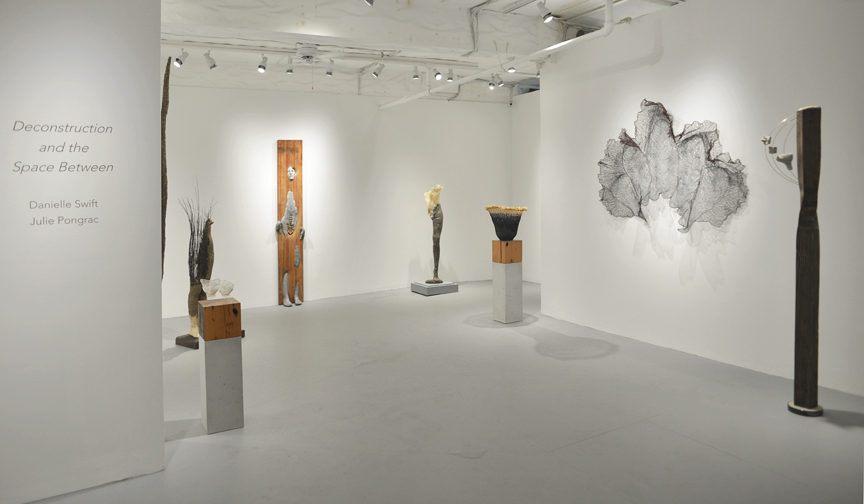 Gallery view.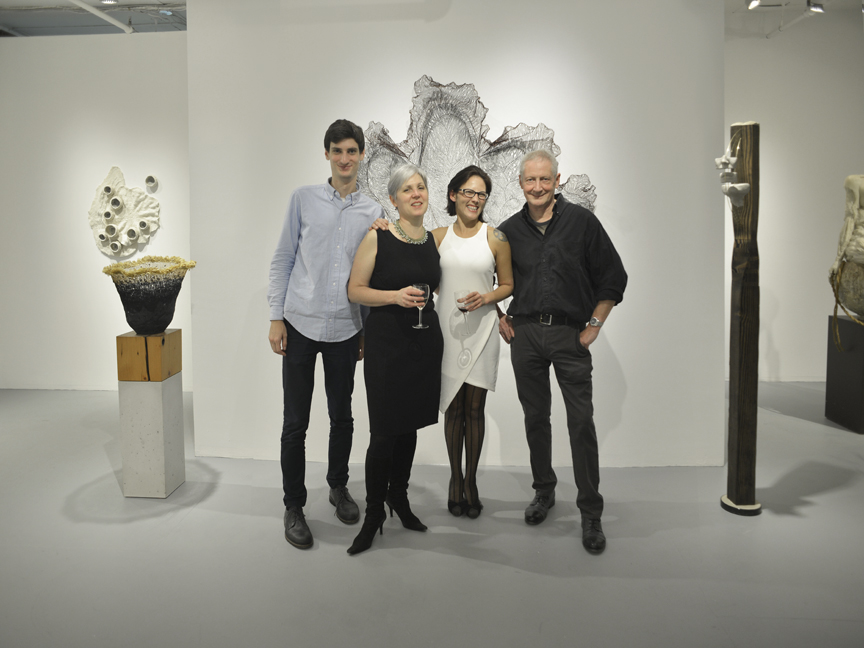 Douglas Watt (Curator), Julie Pongrac (Artist), Danielle Swift (Artist), Noel Hodnett (Director)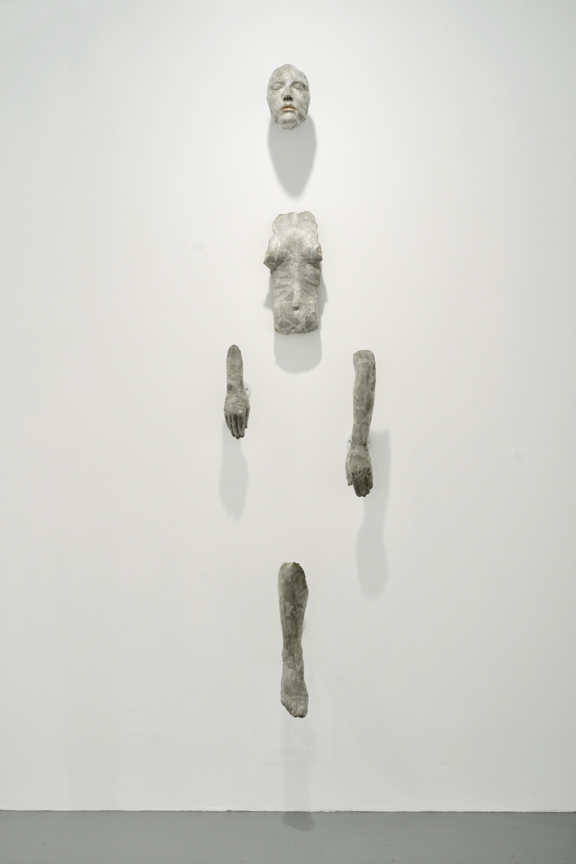 "Wall Mounted Figure" - Danielle Swift - 2012 - Concrete, Beeswax.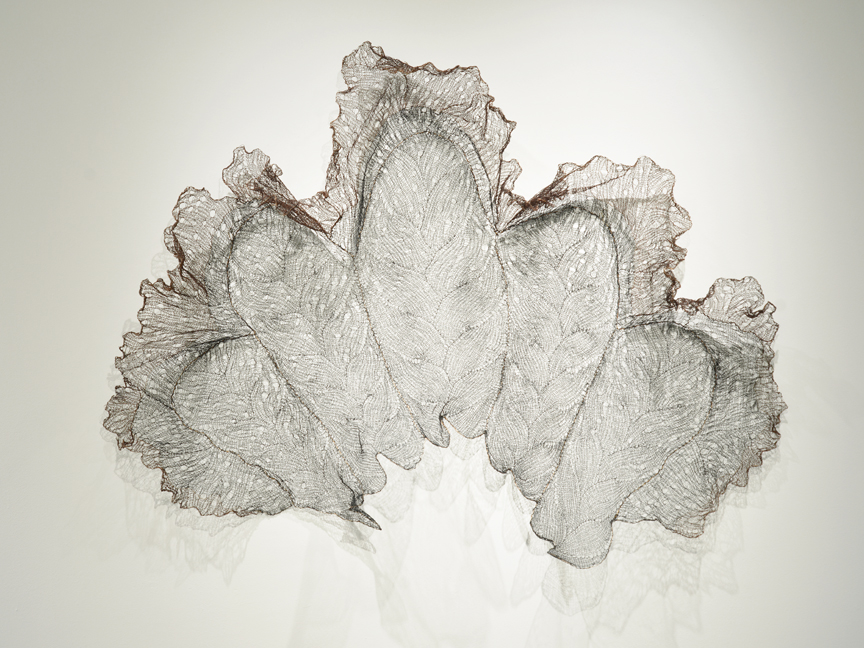 "Umbilica" - Julie Pongrac - Silk-wrapped stainless steel and copper wire - 2016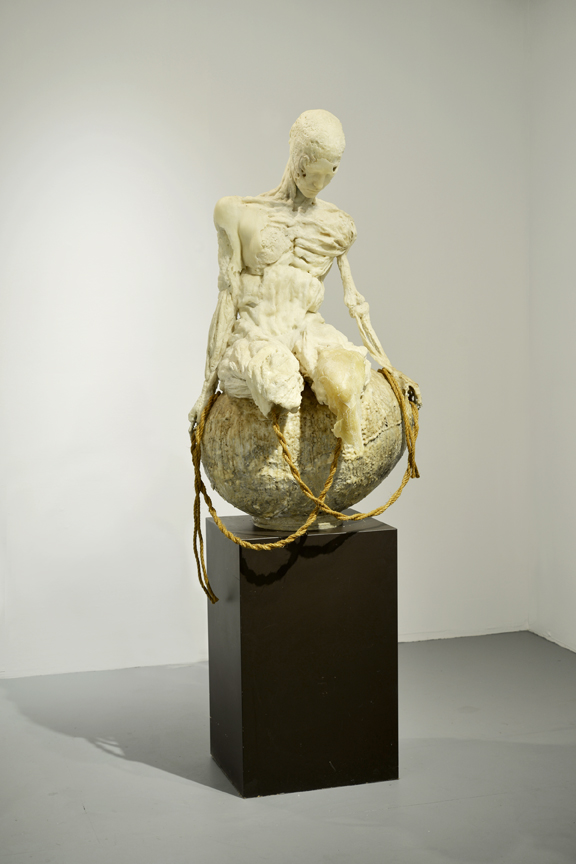 "Bound Figure III" - Danielle Swift - 2016 - Beeswax, paper, concrete, rope.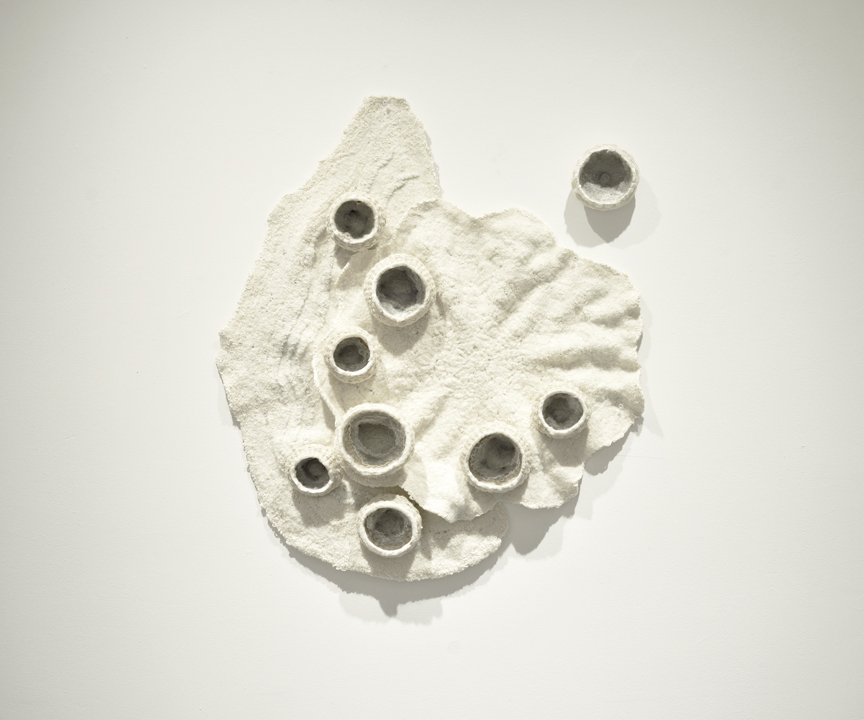 "Apothica" - Julie Pongrac - 2016 - Fin wool, cultivated gima and kibisu silks, paper, acrylic, cocoon castings, waxed linen, white glue.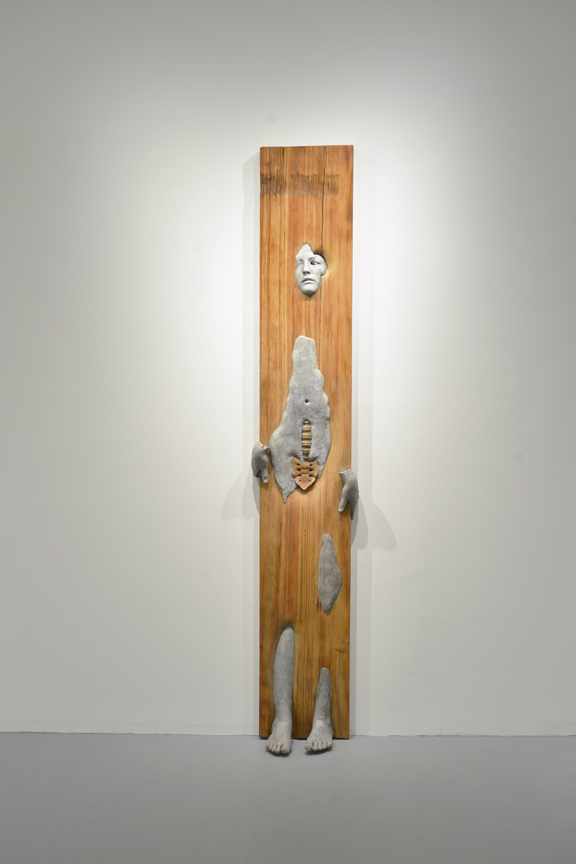 "Immersion" - Danielle Swift- 2012 Douglas fir, concrete, bronze.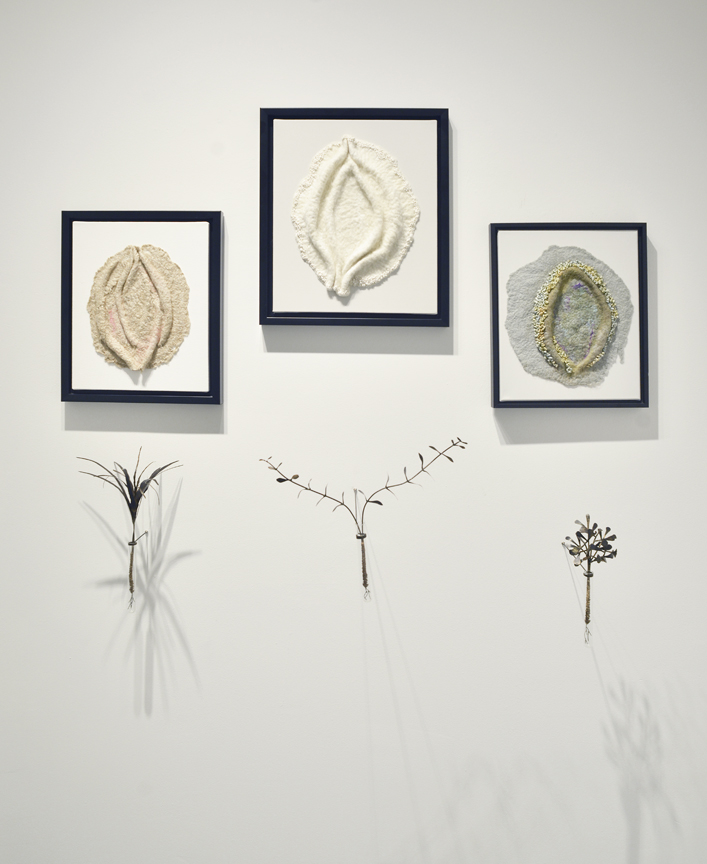 "Gaia Series" (Julie Pongrac), "Stem Cell Research Series" (Danielle Swift)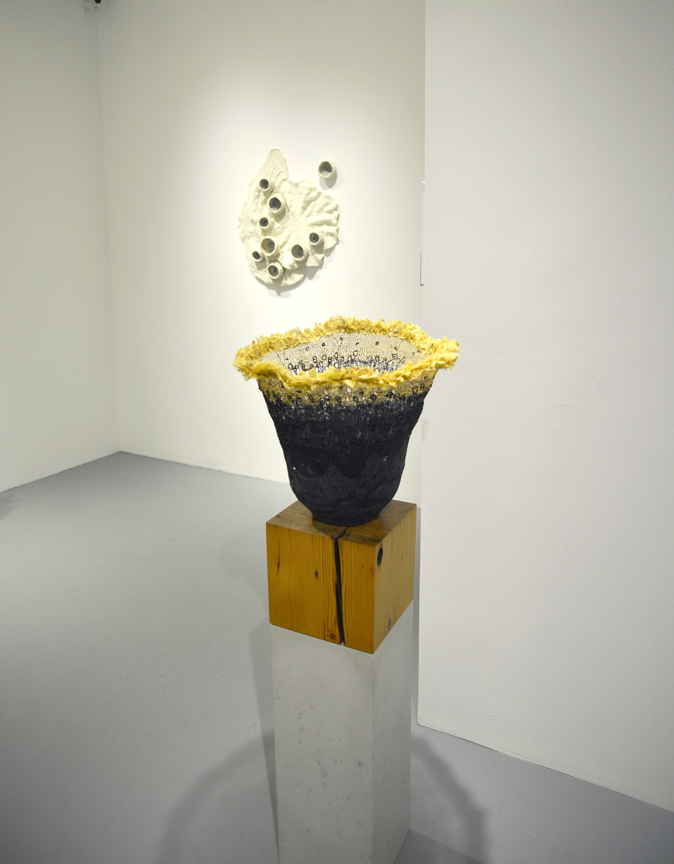 "Sulphur Fumarole Bowl" - Julie Pongrac - 2015 - Tussah silkworm cocoons, silk, Merino wool, semi-precious crystal, glass beads, silver plated wire armature, acrylic. Plinth courtesy of Steven Pollock, www.woodstonedesign.ca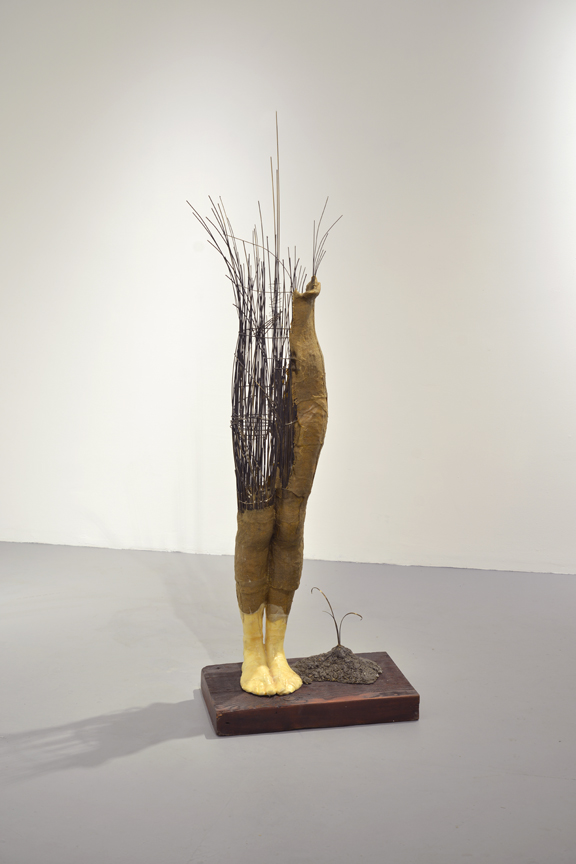 "Grounded" - Danielle Swift - 2016 - Brass, burlap, beeswax, concrete.
Private viewings by appointment only
---