South Africans Abroad
An international group exhibition of work by South African artists from around the World
August 22 - September 26, 2008
This exhibition reunited a number of acclaimed South African artists, most of whom either studied or taught fine art at Rhodes University in Grahamstown at some time between 1960 and 1997. Three of the artists, Matthew Cooper, Kiff Holland and Liza Visagie, had no direct association with the Art School in Grahamstown during this period, but are in one way or another connected to this internationally renowned cultural centre in the Eastern Cape Province of South Africa.
The 2008 1st prize winner of the prestigious BP Portrait Award at the National Portrait Gallery is London-based Craig Wylie. His work entitled "Mask" (created specifically for this exhibition) referred to the HIV/AIDS pandemic in Southern Africa. Wylie's masterful 2006 "Quinacridone Self Portrait" was the centerpiece of the show. New Zealand-based Anton Chapman's small oil on canvas entitled "White Weather" is certainly among this critically-acclaimed artist's finest works. Noel Hodnett's large untitled abstract was the first in a series to be shown during Vancouver's 2008 Eastside Culture Crawl. Matthew Cooper's award winning animated video entitled "Siu Siu" is a delightful, thought-provoking work that looks at the rigours of daily existence.

A general view showing Thomasin Dewhurst's "Portrait of a South African Woman" (extreme left), Liza Visagie's "Junction". Craig Wylie's large "Quinacridone Self Portrait" (center) flanked by Roxandra Dardagan's four small etchings and Margie Britz's "Tissue" (center left) and "Firmament" (center right).
Hermann Niebuhr showed works from his recent "Night Shift" exhibition in Johannesburg where he investigates the solitary yet romantic aspect of the foyers of hijacked and abandoned apartment blocks in downtown Johannesburg. Niebuhr's panoramic view of downtown Johannesburg was flanked by renowned London artist and designer David Champion's powerful abstracts which are informed by traditional African tribal art. Award-winning San Francisco-based Thomasin Dewhurst's "Portrait of a South African Woman" provided a unique glimpse into the personality of the artist while Carl Becker's works looked at the historical, political and cultural diversity of South Africa. The stunning gouaches by Jonathan Cook and Bryn Werth were reason enough to view this exhibition. Well known Vancouver artist Kiff Holland's still-life oil on canvas and Zimbabwean Roxandra Dardagan's humorous etchings were in stark contrast to Norfolk-based artist Margie Britz's enigmatic gouaches and earth-on-linen works which speak directly to the timeless nature of eskers (glacial rivers). Joshua Nell's strong sculptural pieces in metal and wood fittingly rounded off the diversity of this unique exhibition.

A general view of the exhibition showing Carl Becker's limited edition works on paper (left), Hermann Niebuhr's "Homage" (center) flanked by David Champion's oil and enamel "Head I" and "Head II". Noel Hodnett's "Untitled Abstract" oil on linen, Niebuhr's "Night Shift" and Craig Wylie's oil on canvas diptych entitled "Mask"
The artists were invited to send work they felt was representative of what they were currently doing. Due to the logistics involved in sending work from various parts of the world, some artists chose to send works on paper while others decided to send larger, more ambitious pieces. The diversity proved to be a welcome curatorial challenge and stimulated thought-provoking dialogue. The enthusiastic and overwhelming response by the invited artists unfortunately resulted in not all the work being hung. This exhibition provided Vancouver collectors and art lovers alike with a unique opportunity to view an thought-provoking variety of artworks which explored a number of concepts, themes and techniques…some traditional, some conceptual, some topical, some sublime.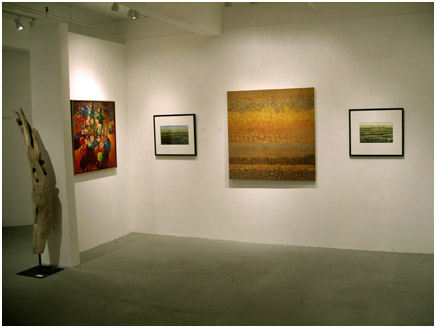 Wall opposite reception area showing Joshua Nell's sneeze wood "Tree Form", Kiff Holland's oil on canvas "Still Life" and Margie Britz's "Push Moraine" (earth pigment on linen) flanked by two gouache landscapes by Bryn Werth.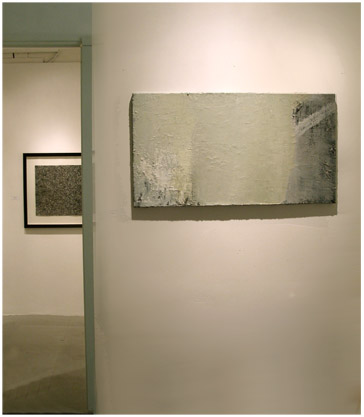 Reception area showing Anton Chapman's oil on canvas "White Weather"
For many of these artists, this was the first time they showed work in Canada. The exhibition was curated by Noel Hodnett and took place from August 22 to September 26, 2008.
Click here to view the works on exhibition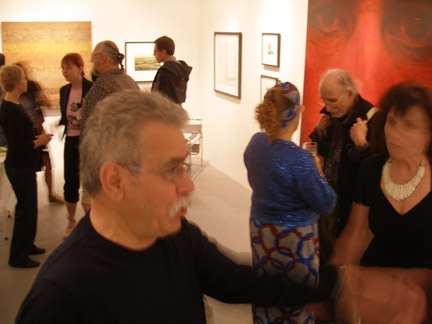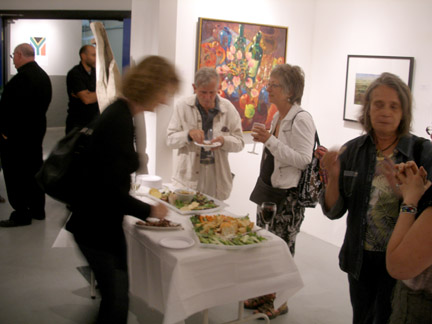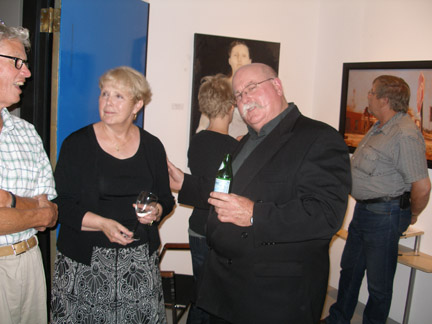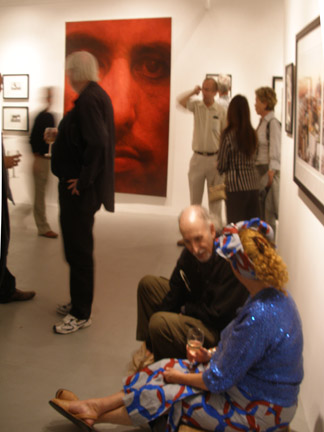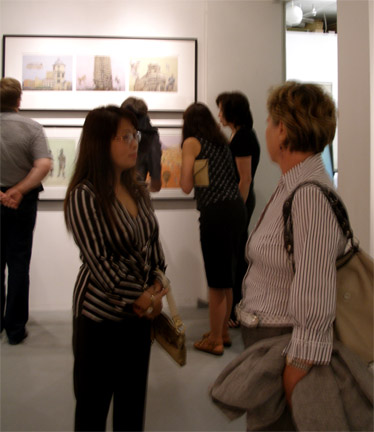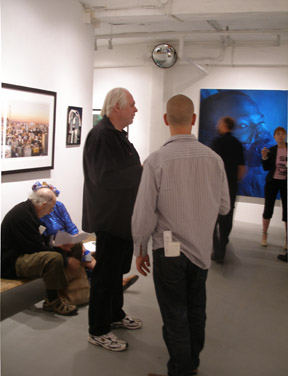 Guests at the well-attended opening reception.